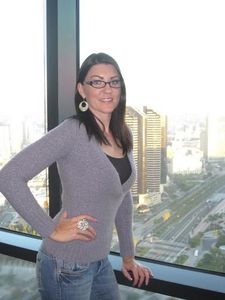 An interview with Jenn Herman, Social Media Strategist & Blogger about trends in Social Media management
Today i am very pleased to interview Jenn Herman, Social Media Strategist and Blogger from San Diego, California. She focuses on understanding trends in social media management and also provides tips and resources for SMB's that need to structure their social media strategies.
Jenn, you are a passionate Social Media Strategist: what do you like most of it?
I love so much about it! I love the social aspect the most. The ability to reconnect with old friends while making new friends through similar interests. I have met some great bloggers and amazing people through social media platforms that I would otherwise never have met.
Why did you decide to Blog about Social Media trends?
I've experienced the challenges of getting upper management onboard with social media and felt that I could share my lessons with others. I also love to help others learn new things so writing my blog was a great way to share my perspective and suggestions with others.
A common refrain is : "too many tweets…a few time left for family and friends…" What's your tip to avoid Social Media overload?
It's extremely important to be focused and organized and to set limits. Knowing why you're online and what your goals are every day helps to keep the tasks in front of you so that you reduce the distraction of online temptations. But you also have to know when to stop. Remember that you have other people who need you too so turn off the computer (or smartphone) during dinner time and other family times.
Some of your posts are about role and skills of a Social Media Manager: What's your view about Social CRM ?
I love that the business world is evolving in this direction. I love that customers can talk directly to their favorite brands and have their voices heard. I think it really holds brands and companies accountable, and that is a great thing. As a result, when it comes to who should do the CRM side of things, I think companies really need to think about who they are putting behind those computers. These people are the face and voice of your company so choose carefully!
When you read others' posts, what do you appreciate most ?
I always appreciate a genuine perspective. I like people who write about what they know and what they are passionate about. I like a blog that is easy to read and feels like I'm sitting around chatting over coffee. If you can make me feel comfortable while teaching me something new and showing me your fresh take on something, I'm hooked!
Your Mantra is "There is NO opting out of Social Media": can you explain it?
People often say that they don't want to participate in social media. They are essentially "opting out" of it. But you can't. Just because you aren't talking about your brand online, doesn't mean other people aren't. Business owners need to realize that they can't hide from this new media. They are better off being online and controlling the conversation rather than letting others dictate it for them.
How do you see yourself the next 3-5 years in this crazy, Social Media World? 🙂
My goal is always to help others learn social media and as long as I'm still doing that and still writing my blog, I'll be happy!
I like a blog that is easy to read and feels like I'm sitting around chatting over coffee
Thank you very much, Jenn! I wish you all the best for your Social Media career!
We will keep reading your posts…over an italian espresso 😉
Paolo Fabrizio – Social Media Scrum