Financial Services, Health and Travel are just some of the industries that have increased investments in video customer service from the beginning of the pandemic on. As we are talking about screen to screen conversations with customers, the devil is in the details. That's why I suggest you embrace the following approach if you want to deliver unrivaled video customer support experiences.
1. Choose the digital platform wisely
While there's a vast array of omni-channel digital platforms you can choose from, only some of them have successfully integrated video support solutions. So in your scouting activities, make sure that the platform you're interested in provides essential video customer service features:
'Click on the video widget' – this option allows the customer to immediately start the live conversation with a specialized digital customer assistant. To get started on the right foot, the customer needs to have access to the video conversation in seconds.
'Schedule the video appointment' – if instead the customer prefers to fix the video conversation at a later time, he will click on an integrated widget / calendar choosing the date and time (see image above).
'Make video escalation' – let's say that the conversation with your customer started through a live chat (text only). After the first exchanges, however, you realize that it is more appropriate to continue in video chat. Obviously, in addition to the technical functionality, you will have to define ad hoc processes and method.
2. Get ready for the video call
After scheduling the call with your customer the work it's time to get prepared to deliver memorable video support experiences. That means making sure that both technical and visual aspects are in order because you don't want to offer customer experience hiccups in the midst of the video call, right? This infographic sums up pretty well the main aspects you'd better take care of.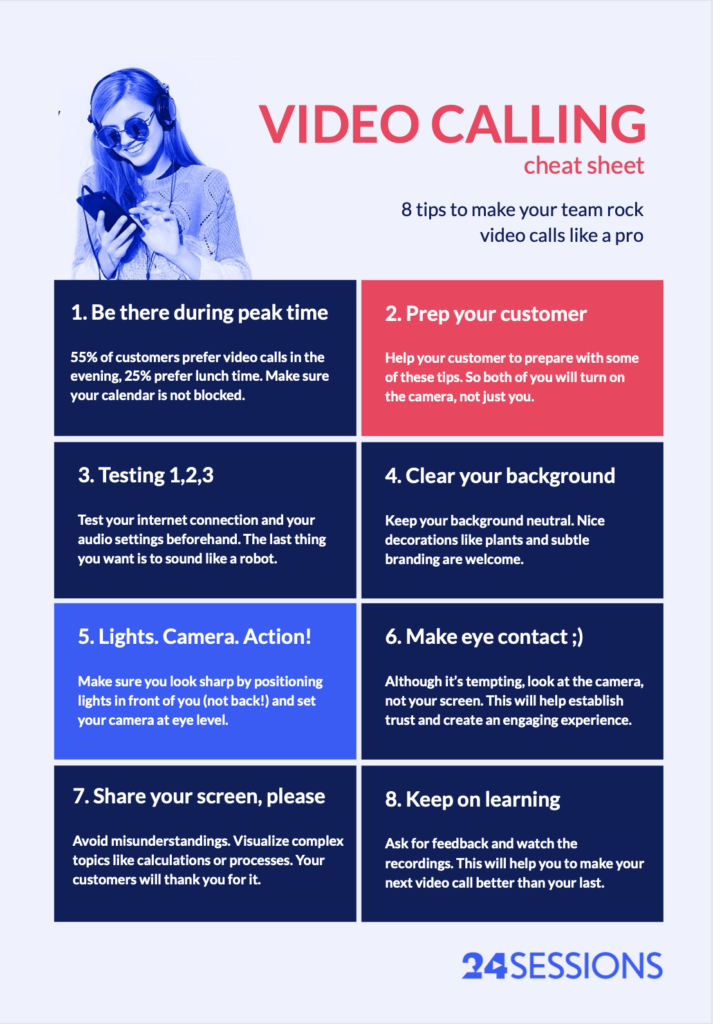 3. Master the conversation like a pro
Lights on, now you are live with the customer! No, no wait a minute…before going live, you / your agents need to be properly trained and up-skilled. In fact when it comes to video customer service both wordings and gestures play a crucial role during the call. I still remember this customer experience: in april 2019 I was at Milan Malpensa airport when I saw two passengers having a video conversation with an agent tried to get information about their flight. On the other side, the support agent did not control her gesture, so that it was more than evident that had lost her patience. As you may imagine the customers were upset and decided to immediately cut off that horrible video conversation!
To prevent such bad customer experiences, check out the Digital Customer Service Personas© skill-set model that includes a focus on video support agents skills, knowledge and capabilities.
Over to you
Take advantage of these 3 steps to deliver video customer experiences. Have you aligned your processes and trained your agents yet? Start our private conversation answering to this interactive video (with text, voice or video). ↓
Have great conversations.
Image credit: Unsplash.com