A few weeks ago I've laser-focussed on what customer service managers need, to let their team master digital conversations. In fact social media, live chat, video chat and messaging apps are support channels with different engagement rules. Today, I'm closing the loop diving into main skill-gaps  affecting digital customer service managers and how to bridge them. Are your ears ringing? Mute all notifications and read this with utmost attention. 
Building up a brand new know-how 
First of all, let me set the record straight: seasoned customer service managers have usually rock-solid skills. These are though related to 'traditional' support channels, such as phone and email. Since however digital channels have different features, tone of voice and customer's expectations, managers need to get equipped with ad hoc skills. As we're talking about new skills, they're not available within their organization, as a recent study showed.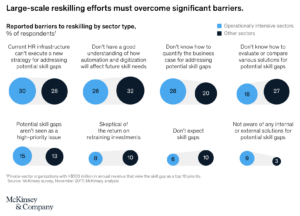 So you may be asking now 'what digital skills are you talking about?' – And more importantly – 'where can we learn them practically and effectively?'
Main digital skill-gaps / how to bridge them
When it comes to delivering Digital Customer Service road maps, most managers have vertical goals they want to achieve. I mean specific steps they want to accomplish to get quick wins to market within their organization to gain momentum. From my consulting standpoint, during the last year the most frequent ones were:
Integrating digital channels into their customer service (e.g. social media, live / video-chat, messaging app) in a harmonious and functional way.
Preventing / mitigating brand reputation crises on 'public' online channels (online reviews, social media) in a timely manner.
Optimizing collaboration within their customer service team in a hybrid environment (in person and remote).
In order to fulfill this demand, I'm delivering online 1-to-1 coaching sessions dedicated to digital customer service managers. Current available paths are:
DCS Manager – focused on digital channels, KPIs, procedures & guidelines.
Crisis Response – focused on preventing / mitigating crisis over public channels (social media, online reviews).
DCS Team – focused on assessing your customer service team's digital conversations preparation / skill gap and on getting them engaged in hybrid scenarios.
Learn more about all 1-to-1 coaching paths at this page.

Have great conversations.
Image Credit: Unsplash.com