'I though that…' or 'I expected that…' are tricky assumptions and when having conversations with customers they become slippery like ice. That happens if you listen too much to yourself and your tribe (aka our organization) without paying enough attention to what's happening outside the building. Consequently you'll increase the gap, instead of getting customers closer to you.
Brands think they're white, customers say they're blue
A recent study by Redpoint Global and Harris has highlighted the mismatch between brands and customers perception. The research has shown that most companies are missing the mark on what consumers want, focusing on product and price as opposed to genuinely understanding the needs of customers. More specifically, the key customer experience areas were:
customer understanding – do you really know what I want and how I want it? Are you able to meet my current expectations?
personalization – how much are you flexible and quick to adapt your business model to provide me with a tailored service?
Omni-channel consistency – as you integrate new digital channels (social media, live /video chat or messaging) are you optimizing Digital Customer Service online across every support channel or just delivering 'hiccups experiences?'
Privacy – Can you keep my personal details safe? Why should I trust you?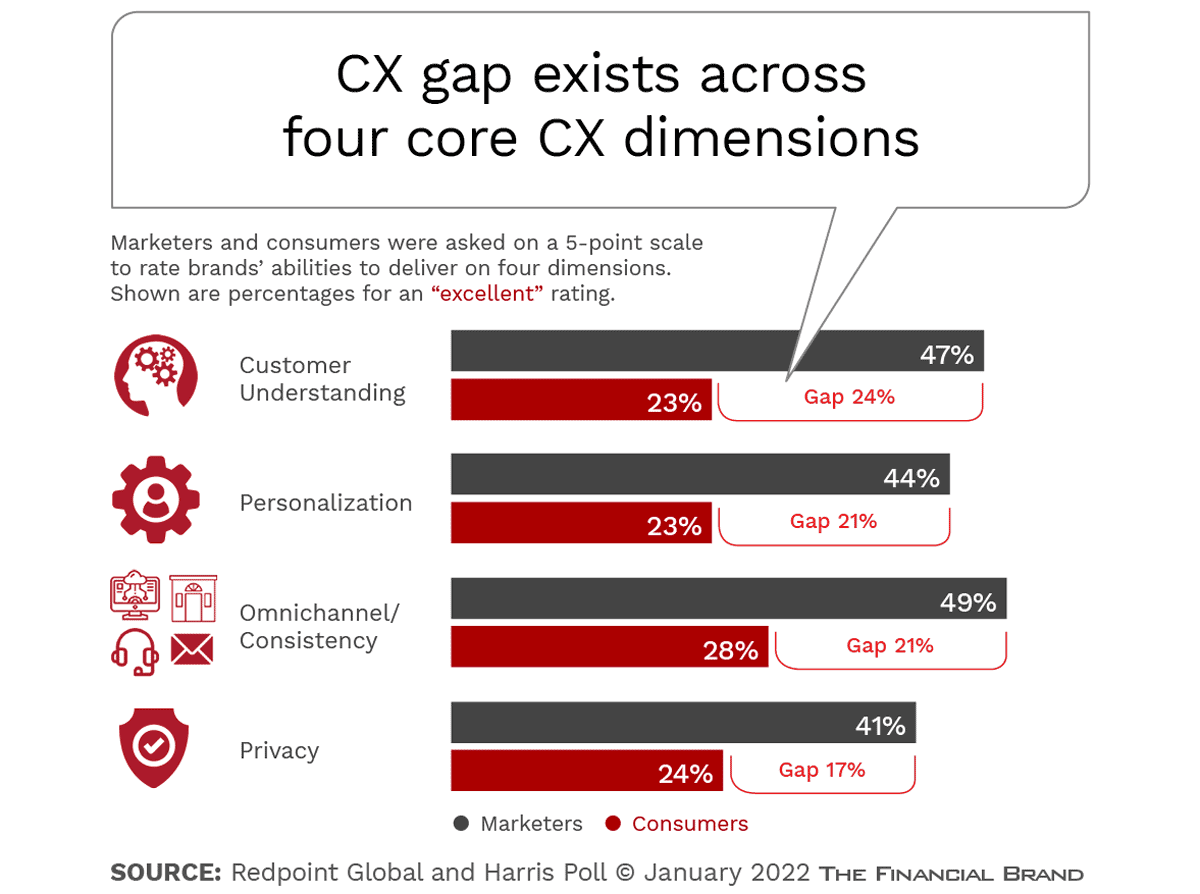 Measuring the 'perception gap' [check-list]
After reading the above stats I'm sure that you won't just reply on assumptions. So now you may be wondering: 'how can I detect the perception gap with my customers'?  Well, first of all I suggest you focussing on key areas which are clearly both internal and external. That means in-depth analyzing the status of your internal values, their adoption by your peers and how customer effectively perceive them. Or how far they think you're far from them (!) To help you put the engine on, I've prepared this check-list for you. Feel free to use / adapt it. ↓
1. Did you set up clear values in your organization?

Your response _______________________________

___________________________________________.

2. Are all your departments fully aligned with them?

Your response _______________________________

___________________________________________.

3. Accordingly, are you walking the talk with your customers?

Your customers' feedback _____________________

____________________________________________.
Over to you
'Whether it's good or bad, I want to know the truth!' That's the best approach for a prosperous future of your business, regardless the industry you're in.
So, are you measuring the perception gap yet?
What are you doing to get your customers closer?
Image Credit: Unsplash.com