Until recently, organizations have hired people based on what they did in the past. HR specialists analyzed C.V.s, then asked in job interviews: 'what's your previous experience in this role?' Today the game has changed, especially when you hire your digital support team because you build a brand new know-how. So, how can you choose the right people with ad hoc skills?
Consider digital skills per each channel
First and foremost, be aware that every Digital Customer Support channel has different features. Therefore both the conversational approach and required skills vary accordingly. In a nutshell, be aware that there is no 'one-skill-fits all' for social media, live chat, video chat or messaging. I have to specify it because still many companies tend to consider all digital channels as if they're all the same, that's wrong and the negative side-effect are:
Poor / inconsistent customer experiences delivered over one or more digital channels
Different tone of voice amongst support agents creating confusion – so that customers may wonder: 'have I really talked to the same company yesterday and today?'
Wrong pace on digital channels – the most frequent one is the mismatch between live chat and messaging conversational approach.
Job vacancies have not (fully) evolved yet
As I read digital customer service specialists job ads on LinkedIn I notice that there's still much confusion. In fact most of them are call centre agents job descriptions adapted to new digital support channels but they don's mention specific conversational skills or customer engagement approach. As a result such job ads tend to attract many candidates, because thay don't clearly mark the difference as for required roles / skills.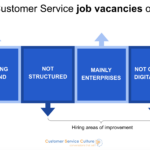 The hiring approach
Now let's get to the juice. Whether you need to hire internally (your organization) or externally, you need to adopt a different approach to the whole process. in fact, apart from considering previous experience in customer service you need to check, test and verify ad hoc digital competencies.
How much candidates are aware of Digital Customer Service?
What do they know about differences between each digital channels?
What do they know about different skills compared to a support role with traditional channels (phone, email)?
If candidates already work within your organization what motivation drives them towards this new role?
If candidates come from other companies what did they learn and how did they experience providing Digital Customer Service?
These are just few important questions to let you understand that when you hire a digital support team you have to take into account many factors. Thus, talking about specific skills, get to know them downloading my Digital Customer Service Personas© skill-set framework.
Deep dive into the process
During these last years I helped many companies recruit and train digital conversations specialists. Therefore I know from first-hand experience how such a delicate path paves the way to new professional roles, thus new exciting career opportunities. That's why I suggest to invest in a laser-focussed hiring process, instead of dealing with more expensive issues during your on-going digital customer service journey. My successful hiring process is based on motivational interviews, customer sentiment detection, and temporized tests that enable your organization build a framework that you can use also autonomously in the future, when your digital team will grow.
So if you need to build / hire your digital support team, I'll be happy to tell you more about my method. Just drop me a line.
Have great conversations. 👊
Image credit: Unsplash.com