As 2021 is just around the corner – thank goodness you may say –  be ready to grab next business opportunities. In fact what this crazy year has taught us is that now consumers take digital support for granted so that responding to their queries is not enough to deliver excellent experiences. Therefore smart brands have already acted upon this new scenario since winning customers requires up-skilled staff with ad hoc (cap)abilities. Learn more below… 
Build up an effective up-skilling journey
Talking about such topic I guess that the first questions popping up on your mind are:
Who are the persons / roles to get involved?
What Digital Customer Service goals and competencies should they achieve? How long does the up-skilling process usually take?
What are best ways to do that?
Sit down and relax, as you'll find all answers in this table I've prepared for you. Please note the topics order on each column from left to right, helps you build the process itself.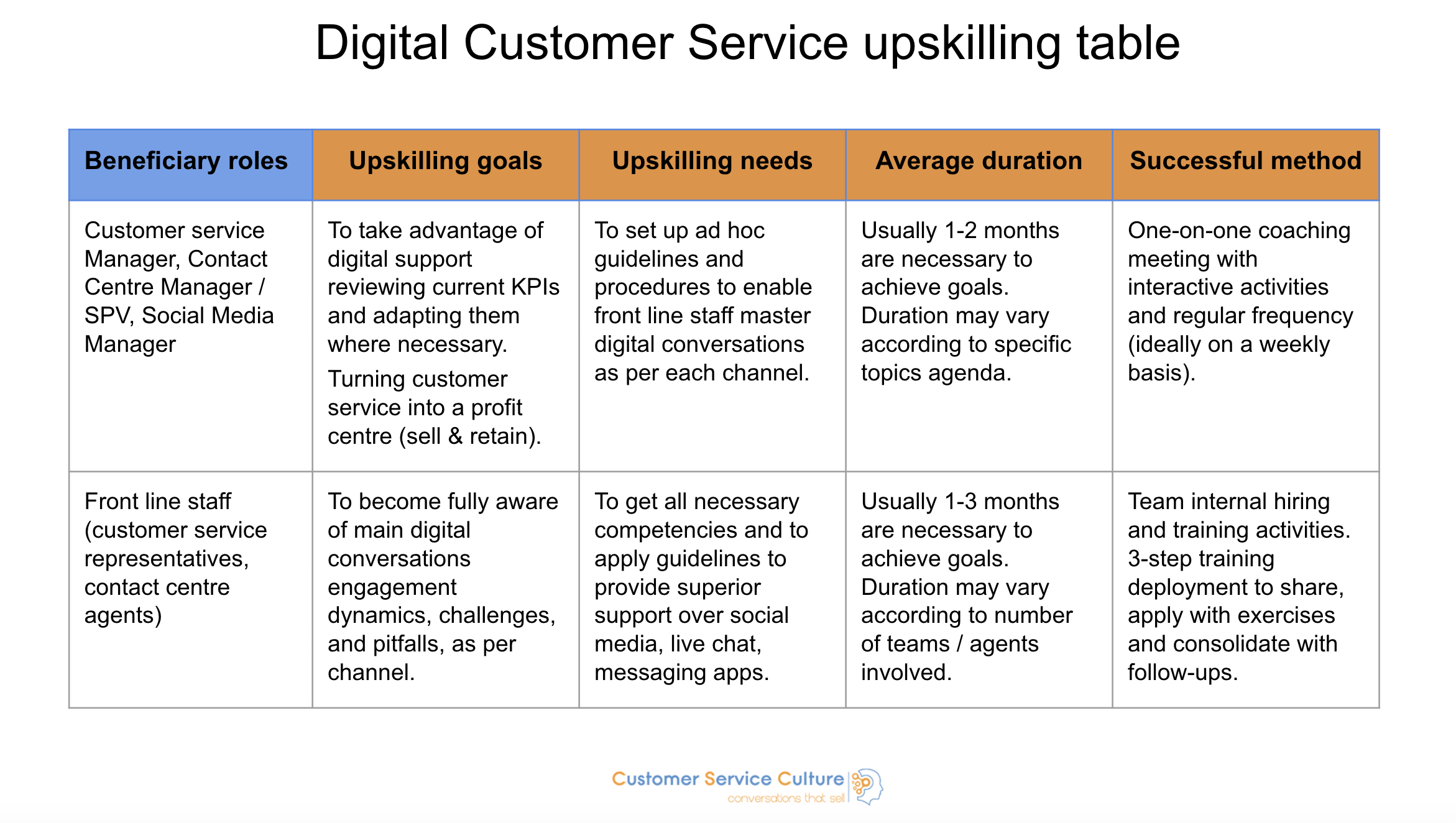 P.S. If you liked the above table share it with your colleagues.
P.P.S. If you have questions, just ask.
What this framework is based on
During the last years I've carried out Digital Customer Service consulting and training activities on behalf of brands of different industries and countries. Since 2019 I've worked more and more on the up-skilling topic since many organizations felt the need to bridge specific gaps: some regarding their customer service agents who where not able to do the same great job they're doing over phone / email also over digital channels. Other clients needing their customer service managers to build up and manage digital support teams. Others instead they needed to get either front line staff and managers up-skilled. One of the results of this job is a useful resource that I've issued for you and shared during online conferences and speeches I gave during this year.
I'm talking about the Digital Customer Service Personas© skill-set model which is based on the above mentioned experiences. Over 300 professionals have already downloaded the ebook, now it's your time.
How much effort and money shall I invest?
If winning customers is your goal you can't underestimate the role of Digital Customer Service. Since as I always say each conversation is the opportunity to consolidate trust with your customers, taking care in details becomes a mantra. Accordingly getting your customer service managers and staff up-skilled means enable them to get on the right track to stand out from competitors.  If you want to let me know about your specific needs, just drop me a line.

Have great conversations.
Immagine in evidenza: Unsplash.com