Customers have become digital. This metamorphosis literally boomed during 2020 but it had already started a few years ago. Many organizations lived and breathed this acceleration because they suddenly had to handle larger volumes of digital conversations = customers' queries over online channels such as social media, Live Chat or messaging apps. So how are you copying with digital interactions strong demand?
What has changed in just 24 months
That's a fact and it reflects in their ever-changing behaviors and expectations. To sum it up with sentence: 'I want it all and I want i now!' With this regard McKinsey have taken a vivid snapshot of this dramatic customers shift towards digital channels in their survey 'How COVID-19 has pushed companies over the technology tipping point—and transformed business forever'. As you can see below the surge of Digital Customer Service demand has been worldwide spread. ↓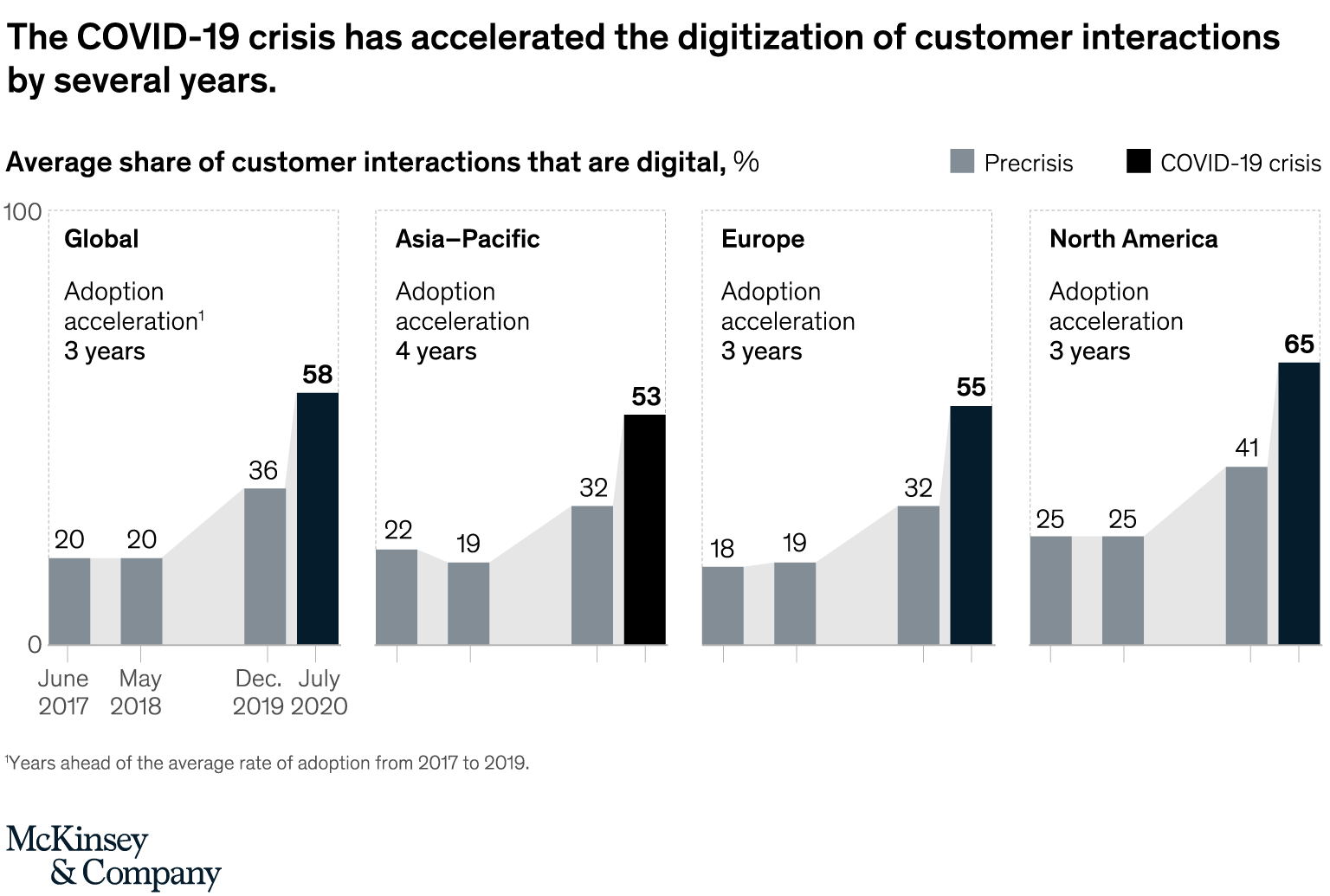 How to optimize digital interactions
In these last 7 years helping organizations harness Digital Customer Service I've learnt that shortcuts do not pay off. Conversely, setting up clear goals and priorities allow to achieve results either in short term and in the long run. To help you brainstorm your current needs start from these three frequent topics I help them develop:
1. Upskilling: either customer service managers and agents need to get equipped with ad hoc competencies to leverage digital customer experiences. Regardless the industry you're in, if you work within the customer support arena chance are you have the urgency to adapt to new customers behaviors and expectation as well as getting acquainted with digital platforms. Learn about the first skill-set model designed to turn your front line agents into digital conversations specialists.
2. Hiring your DCS Team: 'how many agents should provide Digital Customer Service?' And then 'how can I choose them?' These are pretty common questions customer service managers ask themselves when it comes to setting up a Digital Customer Service Team. Easier said than decided, you may argue. Well, since there's no one size-fits-all I suggest you to pragmatically approach this decisions: that's the method that I use to help people like you.
3. Coaching your manager, training your team: customer service managers and their team members have different roles. Accordingly, the most effective programs are tailored on their own specific up-skilling needs. One-on-one customized coaching for managers, while interactive trainings for support teams. Super-interactive, I'd say, since we let them work at least 50% of training time on exercises. Curious to know more? Learn more about our 3-step training path.
How about your Digital Customer Service?
Now I'd like to listen to your story. Use this short interactive video to start our private conversation about your Digital Customer Service!
Image credit: Unsplash.com