Some say they are focussing on strategical, others instead on operational ones. The fact is that many Digital Customer Service managers I have conversations with are facing a demanding goal which is crucial to consolidate all achieved results. Before I deep dive into it, let me ask you in advance your feedback at the end of this article, because I'm curious to know if you're currently facing it.
Spreading customer service culture
There is indeed a demanding goal that only some brands are already living and breathing it. But they are pretty struggling. I'm talking about companies that have already embraced Digital Customer Service a few years ago and already developed an effective road map. Thus, they have already enjoyed and consolidated good results. However their customer service directors / managers realize that they need to overcome a huge hurdle: spreading 'customer culture' across the whole organization, which means C-level and other main stakeholders (e.g. Marketing, Sales, IT, Finance managers).
Towards a new strategic model
Of course achieving that is everything but simple because you need to be able to let them change their mindset and accept that Digital Customer Service plays a key strategic role. More specifically, considering each online conversation the common river to be kept clear and healthy throughout the whole customer journey. Accordingly, strengthening both internal communication and co-operation across departments to meet and exceed customer's expectations pillars:
Speed – they use live chat, messaging ore social media to get faster responses compared to traditional support channels (phone, email).
Efficiency – getting a quick reply is not enough. Customers' expect to receive immediate solutions or at least proactive actions that demonstrate how your team is going to fix that issue.
Transparency – if anything is not working well, or you just screwed up, they want to you let them know immediately. They don't want to find it out by themselves later.
Reliability – how do you manage customer's emotions in case of issues? How do you effectively deal with the issue? How do you reassure the customer after fixing it?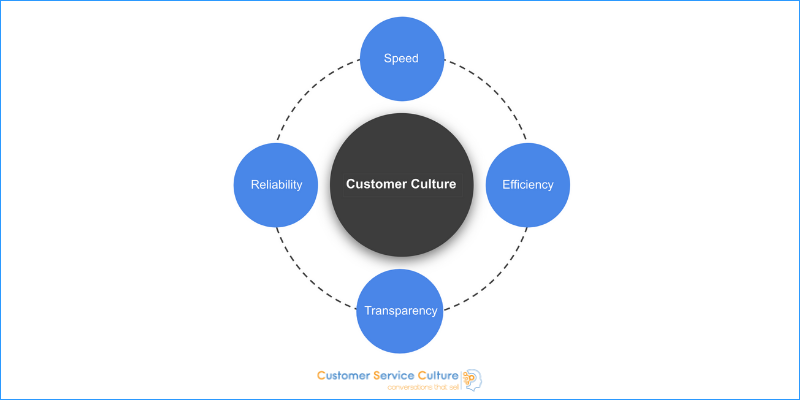 🗣️ Pssst…feel free to share this infographic with your peers!
How are things with you?
Spreading customer culture is the last mile that will let your whole organization meet the digital customer's ever changing expectations. I know it's hard to overcome internal resistance, but you're not alone and some companies I work with have already enjoyed good results: gradually and consistently. Now I'm curious to know about your journey, so how is your Digital Customer Service doing? What challenges are you facing to share customer culture?
Let me know about your experience here or just send me a voice message.
Have great conversations.
Image credit: Unsplash.com