During a period of my life I used to hate Mondays because I considered my job as meaningless. Conversely today I look forward to starting off the week because I do love what I do, helping organizations as a consultant. These totally different sentiments also set apart winning organizations from laggards, based on their customer service team purpose and feelings.
The joy gap
I see many companies making heavy investments on digital platforms to reduce the distance between them and their customers. Such tools are useful, however they are not enough to build and consolidate relationships amongst human beings because they are based on emotions. In fact, the number of disengaged employees is far from being low and that inevitably reflects externally when they deal with customers. Therefore they deliver poor customer experiences because they can't find joy on their daily tasks. An interesting study by A.T. Kearny has identified some key areas that lead to a dangerous employees joy gap. In a nutshell they:
Have poor understanding of their role / of others role within the team.
Weak bonds within the team.
Feel that their talents are not utilized effectively.
Don't understand how my role can contribute to business success.
Get few or none achievement is being celebrated within the team.
Are not encouraged to celebrate other colleagues' achievements.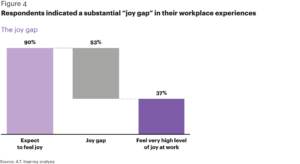 Two drivers to bridge it
If you're still reading at this point, you are aware that the your customer service team 'happiness' plays a crucial role as it's linked to the quality of customer experiences they deliver. So if you want to turn your support  team into the spearhead of your business, you need to invest in building a strong internal culture. A culture where two positive elements drive common purpose, thus, enhance team work.
1. Purpose
'People who like helping other people'.  If you are a customer service manager that's the best environment you may wish to have. As digital conversations are the present and the future, when it comes to providing customer service you also need to internally engage and motivate your support agents. So If you aim at building a thriving workplace for your employees you'll bound to have happy customers too. Get inspired by this interview with Sarah Metcalfe as she provides great insights about how to build a positive work environment for your employees, where they can nurture teamwork.
2. Values
We often talk about the importance of motivating employees, but that's just the surface. In fact if you scratch a little on the meaning you'll find the gold nugget:

So if you want to get your customer service positively engaged, provide them with good reasons to be it. Otherwise all your efforts will produce poor results. That's why I suggest you instead to focus on your corporate culture and, thus, on your values.
How much your customer service team feel them?
Do they feel free to express them/selves when dealing with customers?
Are your current company values up-to-date to motivate them?
Here are 3 crucial moments when my values turned out to be winning. 
Over to you
Having been worked in organizations and helping them today as Digital Customer Service consultant, I know from first hand experience that team purpose and values are the pillars of business success. Now thinking about your customer service team, how much are they clear, convincing and widespread?
Have great conversations.
Credit image: Unsplash.com