While most companies maintain a strong focus on digital tools and platforms, many consumers keep complaining about poor conversations they have with them. The harsh truth is that many brands are convinced they are delivering sane experiences, whereas customers have a pretty different opinion. So why such a huge perception gap? Where is the bottleneck? I'm going to share some experiences and examples to help you prevent it.
The experience gap is on the rise
Despite most of the companies claiming themselves to be 'customer-centric' – regardless of their industry or market – figures show a totally different scenario. In fact, more than a research has highlighted an overall digital customer experience worsening in the last couple of years. Amongst the latest, I've chosen this recent one because it clearly shows this terrible gap after surveying over 4.000 consumers in various countries and continents (Australia, Brazil, China, France, Germany, India, the UK and the USA).
Here's an eye-opening excerpt. 👇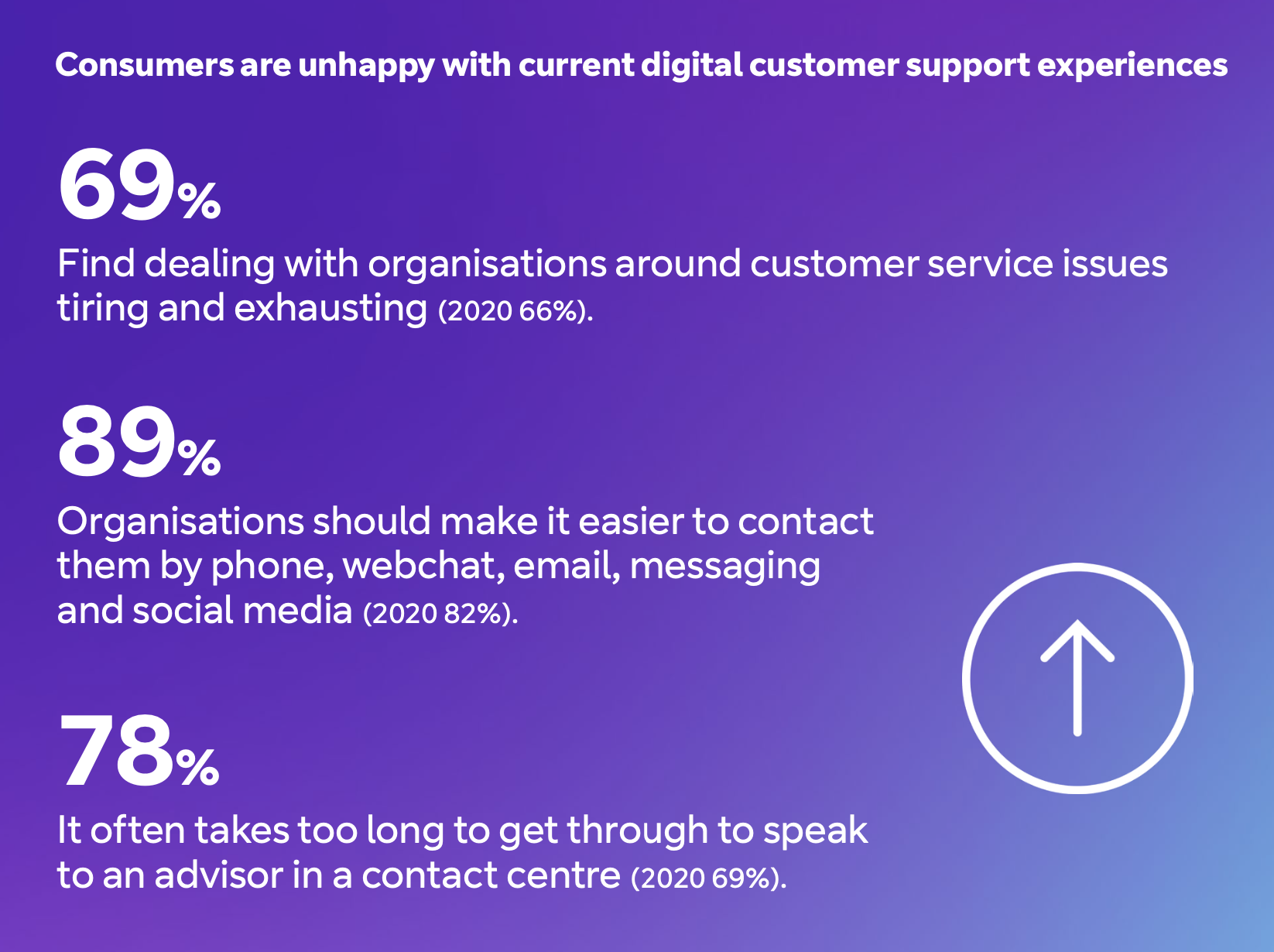 Source: 'The Autonomous Customer 2023' – BT and Cisco
Why some digital experiences really suck
All of us, as customers, expect digital support channels to make our lives easier. Meaning that we choose them to save our time and efforts – otherwise we would just pick traditional customer service channels. As a consultant, I observe that many issues arise whenever live chat, messaging or social media are being used without updating old fashioned customer engagement approach. In a nutshell, they lack of proper:
❌ Processes – they have not been neither reviewed, nor adapted to each Digital Customer Service channel's features as well as ever-changing customers expectations over each of them. Example: a company applying the procedures they've been using for year for email support….over Whatsapp! Don't laugh about it, because I still see many doing such a rookie mistake.
❌ Tone of voice – They have not set accordingly yet. As a result, digital customer experiences are inconsistent (e.g. customers getting puzzled after having interactions with two different agents over the same channel asking themselves – 'did I really have a conversation with the same company?')
❌ Conversational skills – (s*)it happens whenever all digital support channels are considered all the same, but they're actually not! In fact by ignoring their main differences one another some companies wrongly underestimate they're support team digital up-skilling needs. To prevent that, feel free to download the Digital Customer Service Personas©, the skill-set framework designed as for live chat, video chat, social media and messaging apps conversations.
❌ Customer engagement –  consequently the customer service team have not been provided with ad hoc digital conversational training, as per channel. Therefore agents use a single approach for all different channels, thus generating poor customer experiences (here's a typical issue when adopting the same approach over messaging and live chat!).
❌ Proactive approach – agents just respond without trying to anticipate customer's next move or need, even though customers do expect proactivity when it comes to having digital customer service interactions. Therefore if you miss this point, don't be surprised to get in return disappointing CSAT survey feedbacks.
How you can fix them
I'm sure that want to consistently deliver digital sane experiences. To achieve that make sure to run a check to all the above key areas, otherwise get ready to live in a fragile bubble (the perception gap between yours and customer's). So how are you going to prevent that? What Digital Customer Service challenges are you currently facing?
Let's share our Digital Customer Service experiences in this informal chat.
Have great conversations.
Image credit: Unsplash.com