When worries become too frequent they let the stress level increase too much, so far as to make you feel sick. Nobody wants that, but unfortunately it may happen. If you are a customer service manager, chances are that you're already thinking about some sticky situations you have faced. That's why these nine frequent digital experience headaches affect many organizations: fasten your seat belt because I'm going to give you golden tips for each of them.

Top customer experience pet peeves
A recent Kustomer survey engaging over 100 Customer Experience professionals have provided interesting insights about current top priorities / issues in CX. Let's get to know these priorities because for each of them I'm going to dive into, providing you with remedy-tips: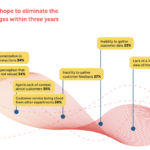 'Customers need to repeat information.' That's the kind of experience that any customer is not willing to tolerate. Not anymore, especially after the digital-pandemic boost we've all faced. 💊 They expect instead that their provider had developed an effective internal communication within the customer service team, as well as across departments. 
'Lack of personalization in customer interactions.' That's a paradox since it takes place over digital channels, such as social media, live chat, video chat and messaging. 💊 To avoid robotic-copy-and-responses set up your tone of voice per channel, then get your support team up-skilled.
'Customers' perception that their time is not values.' When your front line team have an issue either with you as a customer service manager, or with the whole organization. Frequent reason? They feel that their contribution is being underestimated. 💊 If so, that's a sign that the 'customer culture' of the company is obsolete and it needs to be urgently renovated.
'Agents lack of context about customers.'

if support agents have to use 2-3 or even more applications to deal with customers (e.g. one for email, another one for Live Chat, etc.).💊 Smart organizations have replaced such an unproductive approach with omni-channel platforms. As a result, integrating all conversational channels with related reporting and analytics.

'Customer service being siloed from other departments.'  That's the harsh consequence of points 1 and 3. In fact when it comes to getting information from other departments to provide the customer with a solution, it doesn't happen in a smoothly or a timely fashion.

💊 Organizations that have successfully overcome this cul-de-sac have firstly evolved their customer culture, then spread it across every department. Yes, it takes time and consistency and top management buy-in is vital but it does pay off.

'Inability to gather customer feedback.'

That means that KPIs have not yet either been used or integrated into conversational channels. Want an example? A company tracking Customer Satisfaction (CSAT) on emails but not over Live Chat. Therefore getting partial / incomplete data. 💊 To move towards a customer feedback approach, choose and apply wisely ad hoc metrics to each support channel. 

'Inability to gather customer data.'

💊 I.e. not sufficiently using data outside the customer service organization. This scenario is linked to point 4. so I redirect you to my tips above.

'Lack of a 360-degree view of the customer.' If you are not being able to serve customers over the channels they prefer. Amongst all digital experience headaches this one leads to misjudge and dangerous decisions based on wrong assumptions. 💊 Choose carefully new digital support channels, then gradually integrate them according to your own, personalized road map.
'Inevitability of agent attrition.' Especially in mid and big size companies, support agents turnover has become an issue after the pandemic. More specifically they feel much more stressed and at the same time have become picky: they look for a better work-life balance, open internal culture (here it comes again) and growth opportunities. 💊 Plan ahead up-skilling / career paths for your customer support team leveraging the Digital Customer Service Personas© skill-set framework. 
In conclusion
I know that each of the above issues generate many digital experience headaches. However the sooner you let them become priorities, the better you'll face them. I trust you will get inspired by the tips 💊 I've provided you with and I'm looking forward to knowing: what are your top digital customer experiences  challenges?
Let me know your experience in this informal chat.
Have great conversations.
Image credit: Unsplash.com