"Once upon a call…" [unknown author, 2010]
"One upon a chat…" [unknown author, 2020]
These sentences sum up how customer support has dramatically changed in just a few years. In fact for the first time ever, customers call the tune deciding which digital channel use, when and how to use it. Consequently, many organizations have the urgency to upskill their agents. If you are in the same position you can't be stuck in a rut; learn how to build a rock solid team of Digital Customer Service Assistants.
How to turn your agents into Digital Customer Service Assistants
Everybody can do anything…but not with the same results. In fact even the most experienced customer support agents often struggle to deliver when it comes to manage conversations over social media, live chat or messaging apps. The reason is simple: in order to the same great job you need bran new skills – so, even though you're seasoned is like playing another sport. That's why after helping many organizations hiring and training their DCS teams, I've written with my colleague Maurizio Mesenzani 'Digital Customer Personas©: the skill-set model for Digital Customer Service Assistants'. In it you'll find the full framework including:
Main digital channels clusters
The essential traits needed to become digital customer assistants [knowledge, capabilities, attitudes]
Case studies
Download the ebook ↓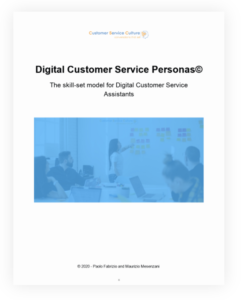 Learn from real examples [podcast]
Digital conversations do not belong to one specific area, otherwise you would have a phone or an email department in your organization.
A few weeks ago I've been guest at Ryan Lester's CX next podcast where I had the chance to talk about Digital Customer Service topics. The conversations went on very smoothly, so that we ended up covering more related topics:
Cultural hurdles to embracing digital customer service [warning: that's a conditio sine qua non to achieve long term results]!
The two main pillars of an effective digital customer service plan [guess, which ones?]
Using social media to create a positive outcome that becomes a driver for more positive outcomes [with case studies / examples]
…And how COVID-19 may affect digital brand engagement.
Listen to the podcast! 

Got questions about building a team Digital Customer Service Assistants?
Feel free to ask.
Have great conversations!