Digital Customer Service is here to stay. That's why getting both support managers and teams digitally up-skilled has become vital for any smart organization. Accordingly it's not a matter of if, rather how to do it – meaning the approach that works best for you in terms of results. That's why I've prepared an overview on two different training paths, plus an icing on the cake for you.
Inter-company vs. customized trainings
Think about the latest customer service training that you've attended. What aspects did you appreciate the most? Why? What instead did you dislike? Why? Chances are that your positive and negative emotional memories are linked to the structure of the training itself. If you want to share your past experiences, just drop me a line. While you're digging into your brain, let's get to the core of this article focussing on the two main customer service training paths. I've summed up below the main differences between inter-company and customized training.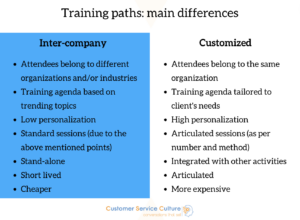 How aware are your managers / peers about the above differences?

Feel free to share this infographic with them.
Build your upskilling framework
As for Digital Customer Service, training paths have specific purposes whether delivered to managers or front line staff, since they cover different roles and have different responsibilities. That's why the first thing I suggest you to do is setting up clear goals and needs for both beneficiaries. By doing so it will also become much easier for you to evaluate priorities, thus necessary efforts. Before you start wondering how to achieve that, I've got great resources for you:
To help you have a smooth approach to this process feel free to use my up-skilling framework.
Learn more about customer service managers digital upskilling needs – these are the three main areas I'm working with them.
Dive into support agents digital up-skilling – here's how I develop my training itineraries for them.
What are your training goals?
After providing you with valuable information, take your time to digest them. Meanwhile, let me just remind you how in Digital Customer Service up-skilling is vital to enhance your sales, thus business results.

Have great conversations.
Image Credit: Unsplash.com