As in the last 24 months a growing number of companies have started delivering video chat support, most of them need now to fine-tune customer experiences. The reason why? It's a brand new customer service channel for organizations, with relatively poor internal know-how to draw from. Accordingly, support agents need to be equipped with ad hoc conversations skills to deliver outstanding video chat support. Thus, preventing customer experiences hiccups.
From agents to video support specialists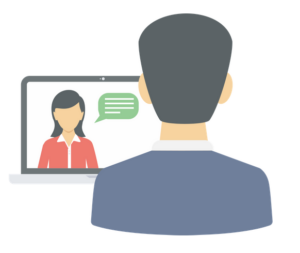 I've had the opportunity to train customer service teams belonging to different industries, markets, age range over traditional and digital support channels. Regardless their specific expertise on phone, email, social media, live chat or messaging, all of them were not ready to deliver good customer service during a live, video chat. The reason is simple: when having a video conversation you need to be in full control of your body since customers watch you over the screen during the conversation. Therefore there are three main specific skills your customer support specialist need to develop when having video chats with customers:
👀 Non verbal skills. It's about knowing what movements of your body may help or damage the conversation during a video chat with a customer. So that your agents become able to master all of them (posture, gestures, gaze and facial expressions).
⁉️ Paraverbal skills. They comprise the expressive elements of human voice: tone, pace and pauses. Make sure to use them strategically, combined with non verbal skills to facilitate empathy from the very beginning of the video chat.
💬 Time to speak. The ability to know when it's time to speak and when instead to listen to the customer, avoiding any disturb or overlapping. This skill is very much linked to emotional intelligence because each customer have a different personality, speaking approach and listening capabilities. This is real-time adaptability makes the difference.
Deep dive
As video chat support adoption is growing rapidly amongst markets and industries, I suggest you to keep diving into this topic. I'm sure you will love these gems:
The Digital Customer Service Personas© skill-set framework includes a special focus on abilities, competences and attitudes to master video chat conversations. Download it now.
Are you ready for video customer service? – This one will inspire you because you will get to know about real case examples linked to specific business goals. So if you're about to start delivering video customer support, that's the perfect fit for you.
3 steps to boost video customer support. – Here you get useful hints about the main features you need to carefully consider when scouting an omni-channel platform integrating video chat. The icing on the cake? A go-to infographic with 8 tips to enhance your video conversations with customers.
Over to you
Congratulations for reading this article. If you're about to or already offering video support, getting your agents equipped with ad hoc skills is paramount. That's the only way to deliver outstanding, visual customer experiences by reducing the physical distance over a screen. So to get inspired, take a look at my Digital Customer Service trainings page – I'm looking forward to start OUR informal video chat.
Have great conversations.
Image credit: Unsplash.com