When the going gets tough it's time to take important decisions. For for your future, your loved-ones, your life. That also applies to business because today, more than ever, you need to choose between 'let's keep doing as we've always done' and 'changing route towards new unexplored destinations.' That's why when it comes to customer relationships, chances are you're right in front of two sliding doors. I will help you successfully go over them.
1st door: are you chasing transactions or relations?
This is first strategic junction on your path. Bear in mind that this important decision will influence very much your forthcoming customer service & experience results: either in the short, mid and long term. If you choose to mainly focus on transactions you decide to invest most of your time, effort and in the acquisition of NEW customers. This choice will be reflected outside as your marketing communication will be winking especially this category. Example: "grab our super internet offer and get 25% off for the first 3 months!"
Pros: you'll be attracting new customers and hopefully expanding your current customer base.
Cons: not taking enough care of your acquired customers may result in having retention issues. Consider that all customers in the world have dramatically raised their expectations, especially in the last 12 months!
2nd door: are you afraid of digital conversations or do you want to leverage them?
Now here's the second of these important sliding doors: avoiding or embracing Digital Customer Service. In fact some organizations are still reluctant to integrate one or more digital support channels because they are afraid of getting negative comments – especially over public channels  such as social media and online reviews. By doing so though they prefer not to know what customers really think about them. Straight to the point: a customer may be dissatisfied for a reason we need to investigate – blaming a specific channel for that is just a blinding excuse. Conversely, more and more organizations have started investing in their digital conversations, being aware that each of them is an opportunity to consolidate trust. That means:
Carefully setting up their digital tone of voce and guidelines as per each digital channel
Hiring and training their customer service agents turning them into digital conversations specialists.
Learn about the Digital Customer Service Personas© skill-set model.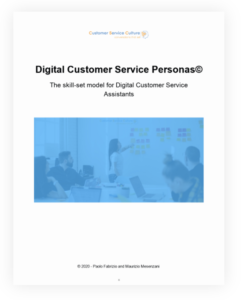 Have great conversations!
Image credit: Unsplash.com