It's easy to be cheering when customers do what we expect they do. What if though they suddenly decide to leave us: would you still be positive or get a bit nervous? In such situations smart organizations maintain focus on helping out their customers to understand why they have decided to abandon them, with a continuous improvement approach. Here's a useful example you can learn from.
Turn a bye-bye into a good memory
A few weeks ago I've decided to quit a service because I realized that it was not what I need at the moment. So I follow a very simple easy and fast path: that's how it should always be when we, as customers, want to say bye-bye to a product, service or a brand. Then I was immediately prompted with a feedback form. Instead of asking me investigative questions such as 'are you really sure..?.' or 'why did you decide to leave us?' They started off with a clear and open statement: help us improve. So I immediately understood that they were not questioning my decision. Then I read and appreciate the personalized Mike's message because:
He briefly introduced himself, his role and main goals.
Then he highlighted their strong commitment at improving their product, thus asked me to let him know why I've decided to uninstall it.
Finally explained me how they would use my feedback 'to understand how to improve our products' adding a nice arrivederci 'we hope to see you again in the future.'
Then all I need to do was checking a box on the right hand side of the same message to let them know the reason why I decided to quit. ↓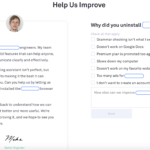 Upon completing the form I've received this nice thank you message.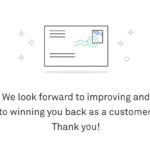 First impression counts, last one is vital!
Whenever you may think that it's over with your customers it's not yet. In fact even after a great service recovery it's time to still be helpful during the bye-bye process. So take advantage of these golden nuggets:
When a customer decides to quit listen and learn to understand their 'whys' and follow up to improve your products / services / support processes.
Keep the door open. By helping out customers you show that they will be welcome again in the future.
Let good memories of this experience so that customers will re-consider or even recommend you to other prospects.
Let's talk about your Digital Customer Service
Click this short interactive video to get our conversation started!
x
x
Credit image: Unsplash.com